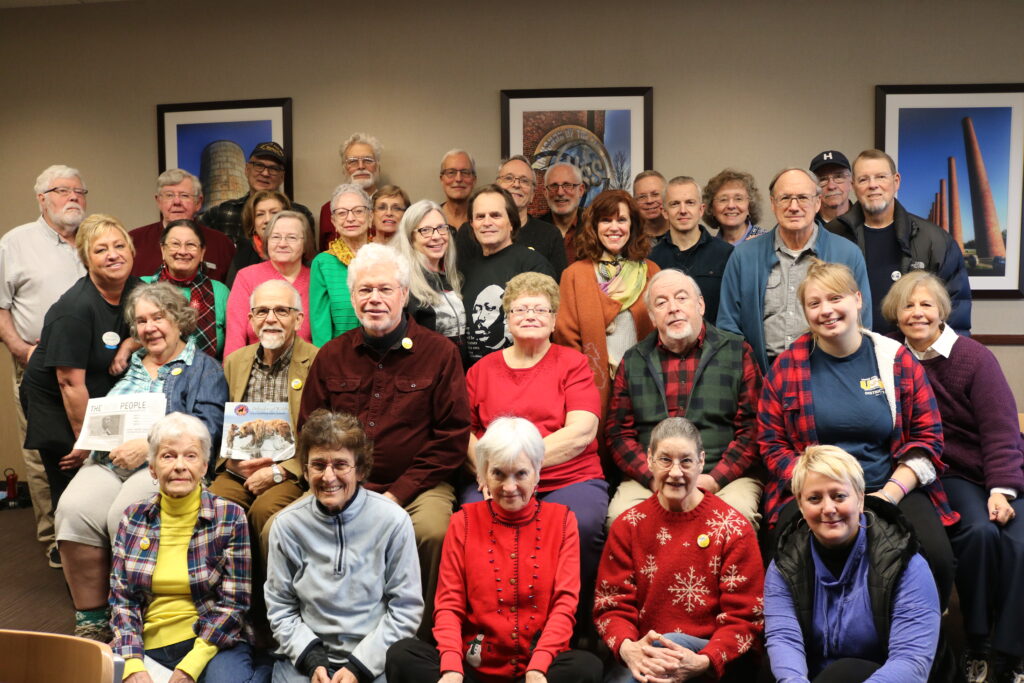 John Haer
President
John Haer worked 25 years in communications, organizing, negotiating and staff direction for a local union (SEIU) representing service and health care workers and (before retiring in 2012) 10 years as director of a local union (AFTRA) for performers and broadcasters in radio and television. Earlier job experience included welfare casework in New York City, 2 years farm labor at Woodville State Hospital as a Conscientious Objector to the American War in Vietnam and 6 years as an administrator at an alternative youth health clinic. Currently, John is the volunteer Board President of the Battle of Homestead Foundation, also a Democratic (Bernie-style) Committee Person.
Pauline Greenlick
Vice President
An active member of the Battle of Homestead Foundation, Pauline Greenlick has worked in education for over 30 years teaching students with special needs. She is an award-winning filmmaker and educator focusing on documentaries involving social justice issues for businesses and nonprofits in western Pennsylvania and Africa. Her documentaries include recording and preserving events sponsored by the Battle of Homestead Foundation and focusing on social issues involving marginalized people in Africa.
Perry Recker
Secretary
Perry Recker is a retired college librarian, a long-time worldview educator with a strong interest in the environment, a lay philosopher of religion, science and ordinary experience, and an advocate for social justice and healthy local communities. Besides being a member of the Battle of Homestead Foundation since 2016, he has served on the boards of a several other small, non-profit, charitable organizations. He currently serves as recording secretary for the Board of Haiti-H2O, the County chapter of the IWLA, and as treasurer for the Pittsburgh Chapter of the Citizens' Climate Lobby. He recently retired from the Board of the Pleasant Hills Arboretum on which he served for 5 years.
Rosemary Trump
Treasurer
A retired Vice President of SEIU and President of SEIU, Local 585, Rosemary Trump is currently a member of SEIU, USW and UMWA (retiree locals). She chairs the Labor Heritage Center Committee for the Battle of Homestead Foundation. She served as Chair of the Committee on Political Education for SEIU, Chair of the Westmoreland County Democratic Committee and is a six-time delegate to the Democratic National Convention.
Maura Bainbridge
Maura Bainbridge holds a PhD in anthropology with a focus on historical archaeology. Her academic work considered the memorialization, and more often the erasure, of labor history at sites of labor conflict in the United States — Homestead, Pennsylvania; Ludlow, Colorado; Chicago, Illinois. She believes this history is important to preserve and celebrate because it allows contemporary workers to challenge seemingly immovable power structures while offering us models for how to build a more just world.
Jacqui Cavalier, EdD
Professor of History at Community College of Allegheny County
Dr. Jacqui Cavalier has been a Professor of History at Community College of Allegheny County (CCAC) since 2000 where she teaches a variety of history courses. She serves as Allegheny Campus Vice President for American Federation of Teachers (AFT) Local 2067 where she also served as the Faculty Coordinator of the Labor & Management Studies Certificate program. Dr. Cavalier received her Doctorate of Education and her Masters of Arts in Social Science from California University of Pennsylvania. Among her publications is a relevant article, "The Impact of Immigration on the Iron and Steel Industry", in The Industrial Revolution in America (2005).
Suzanne Donsky
Suzanne Donsky served for 31 years as an attorney with the National Labor Relations Board and came to Pittsburgh's Region 6 Board office in 1993. She began her NLRB career in NYC, having been in the third graduating class of CUNY Law School and its uniquely public interest/social justice law program. Suzanne has held various positions with the NLRBU, the union representing Board employees. She previously worked as a community organizer in the South, first for PIRG and subsequently for the National Abortion Rights Action League.
Mark Fallon
Mark Fallon is a life-long resident of the Steel Valley and an avid archivist of labor history. He graduated from University of Pittsburgh, is a U.S. Army veteran and worked at U.S. Steel's Clairton plant for 14 years. He retired in 2018 from the Steel Valley School District where he taught middle school history for 14 years. Mark currently serves on boards of the Homestead Cemetery Committee, The Dragons Den and the Munhall Parks and Recreation Board. He is a member of the Council for Munhall Borough.
Al Hart
Al Hart was born in Lynn, Massachusetts, where members of his family had worked in the now-long-defunct shoe industry and in electrical manufacturing including GE and Sylvania. He grew up in Erie, PA and was politicized by the civil rights and antiwar movements of the 1960s, graduating in 1972 from University of Rochester with a BA in history and experience in the student left. He joined UE and the labor movement his first day on the job in 1973 at the Erie GE plan, where he received education in trade unionism during 13 years working at GE and serving UE Local 506 as a department steward, local executive board member and editor of the monthly UE 506 Union News. For 20 years starting in 1986, Al was a UE field organizer for the national union, working on organizing campaigns in Connecticut, West Virginia, Ohio and assisting UE locals in contract negotiations, fighting grievances and training workplace union leaders. In 2006 he became managing editor of UE's national organ, The UE News, and relocated to Pittsburgh, where he retired in 2017.
Jay Hornack
Jay Hornack is in private practice as an employment law attorney and was active throughout the 1980s in the Tri-State Conference on Steel, an advocacy organization committed to stopping plant closings (such as the one that occurred in Homestead) and mass layoffs in manufacturing. Tri-State was instrumental in the formation of the Steel Valley Authority, a statewide economic development instrumentality of the Commonwealth of Pennsylvania, and Jay has served as SVA's Solicitor since 1986. He also defended in court the legality of the City of Pittsburgh's 1983 plant closing notification ordinance. Jay has been an adjunct teaching business law and ethics to undergraduates at Carnegie Mellon's Tepper School of Business since the 1990s.  He has also volunteered previously to be on the Board of Directors of Disability Rights Pennsylvania (formerly Disabilities Rights Network), Avenu (formerly StartUptown), and the Thomas Merton Center.
Charlie McCollester
Dr. Charles McCollester is a founding member of the Battle of Homestead Foundation. He has a Doctor of Philosophy from Louvain, Belgium, and was a Steward (Local 57 Hotel Restaurant Union) and Machinist and Chief Steward (UE 610) at Union Switch & Signal. He retired as director from the Pennsylvania Center for the Study of Labor Relations at Indiana University-Pennsylvania where he was a professor of Industrial and Labor Relations. He is president emeritus of the Pennsylvania Labor History Society.
Lawrence McCullough
Lawrence McCullough is the BHF Communications Committee chair and a BHF Program Committee member. An organizer of educational and non-profit community ventures since 1973, he has an extensive background in journalism, public relations, arts coordination and municipal government administration. He earned a PhD in ethnomusicology from the University of Pittsburgh in 1978 and was a founding board member of Calliope House the same year.
Constance Portis
Constance Portis is a Homestead resident and is degreed in the field of human relations. She is a founder and former publisher of the Greater Pittsburgh Black Business Directory, Women's Yellow Pages and Renaissance News. She founded the Black Extravaganza and Traiblazer Awards, Womenpower Seminar for African-American women and Holiday Expos and produced the play Christmas is Comin Uptown. For 9 years, she served as Assistant Director of Equal Opportunity for the State Auditor General And established two POISE Foundation Funds. She is most proud of her mentorship of women and men who worked with her over the years. Currently, she hosts the annual Sisters and Friends Getaways for more than 100 women from around the country.
Saul Schniderman
Saul Schniderman is a founding member and current chair of the Labor Heritage Foundation in Washington, DC.  He is the former president of the Library of Congress Professional Guild, AFSCME 2910 and former president of AFSCME Council 26, Federal Employees. Saul edits Friday's Labor Folklore, a weekly newsletter. He is a board member of the Metro Washington Community Services Agency, AFL-CIO and a member of the Mother Jones Heritage Project.
Howard Scott
Howard Scott is a longtime, proud member of the Battle of Homestead who has worked on a number of the group's initiatives and programs through the years highlighting local history, unions and the importance of our working class legacy. Currently retired and living with his wife Cathy and family in the South Hills, Howard has worked a number of jobs ranging from steel mills, dock yards and delivery truck routes. He spent years working for the United Steelworkers and AFL-CIO Industrial Union Department on organizing efforts and assisted on numerous strikes, lockouts and contract campaigns. A University of Pittsburgh graduate, he has for the past 12 years been writer and editor of the Pennsylvania Labor History Journal and serves as an officer for its sister organization, Pennsylvania Labor History Society.
Brittany Sheets
Brittany Sheets is a multi-talented communications professional and proud Penn State University graduate. She got her start in the progressive movement through her work with The Union Edge, Labor's Talk Radio. Raised in a labor family, she understands the struggles that face today's working class, advocating for progressive ideas and social justice.
Mike Stout
Mike Stout worked at the Homestead Steel Mill from 1977-1987 and served as an Assistant Grievanceman, elected Zone Grievanceman and Grievance Chairman for USW Local 1397 from 1979 until the mill closed in 1987. He has studied and is intimately familiar with the history of Homestead and the Steel Valley. Mike has been a labor, community, environmental and anti-war organizer for 50 years and a singer and songwriter for 52 years. He has written more than 150 songs, including many on the struggles and movements of working people.
Keli Vereb
Keli Vereb has since 2001 served as coordinator of USW District 10 Women of Steel and facilitates Women of Steel trainings for the district. She has been a USW member of Local 2227 since starting work at USS Irvin Plant of the Mon Valley Works in 1995, where she works in the Business Planning Department. Keli was financial secretary for her former Local 1408 for 9 years. She also serves as a Rapid Response Congressional Coordinator for her local District.