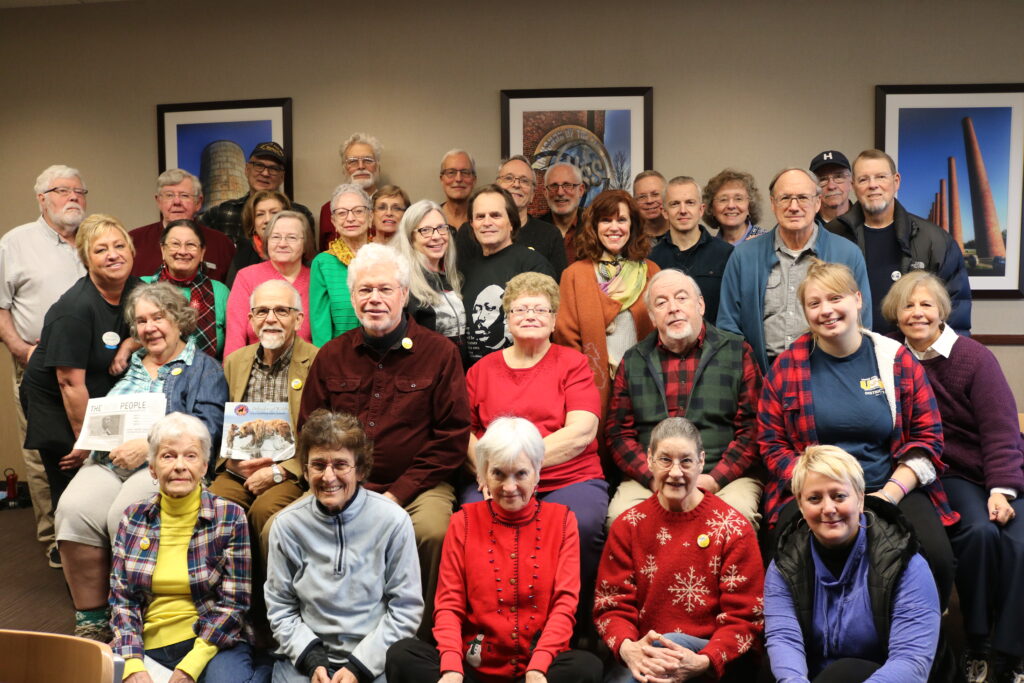 John Haer
President
Worked 25 years in communications, organizing, negotiating and staff direction for a local union (SEIU) representing service and health care workers and, before retiring in 2012, 10 years as director of a local union (AFTRA) for performers and broadcasters in radio and television. Earlier job experience included welfare casework in New York City, 2 years farm labor at Woodville State Hospital as a Conscientious Objector to the American War in Vietnam and 6 years as an administrator at an alternative youth health clinic. Currently, John is the volunteer Board President of the Battle of Homestead Foundation, also a Democratic (Bernie-style) Committee Person.
Steffi Domike
Vice President
A labor educator with the United Steelworkers International union. Steffi first joined the Steelworkers in 1976 as a member of Local 1557 in Clairton, PA, where she worked for United States Steel in the electrical gang at the Clairton Coke Plant. A founding member of the Battle of Homestead Foundation, she produced several historical videos, including The River Ran Red, telling the story of the 1892 Homestead Steel Strike. She currently facilitates member and leadership training classes on assignment across the United States and Canada.
Dan Beeton
Secretary
Directs communications for the International Program of the Center for Economic and Policy Research, one of the only pro-labor union "think tanks" in Washington, DC. He has 20 years of experience working on international policy issues with organizations such as the Center for Economic Justice, Haiti Reborn and the US Campaign for Burma. Prior to joining CEPR, he was associate director for Citizens Trade Campaign where he did research and advocacy to advance a U.S. fair trade policy. He has been a proud member of the International Federation of Professional and Technical Engineers Local 70 for 13 years and has served on the Battle of Homestead Foundation board since 2015.
Rosemary Trump
Treasurer
A retired Vice President of SEIU and President of SEIU, Local 585. She currently is a member of SEIU, USW and UMWA (retiree locals). Rosemary is currently chairing the Labor Heritage Center Committee for the Battle of Homestead Foundation. She served as Chair of the Committee on Political Education for SEIU, Chair of the Westmoreland County Democratic Committee and is a six-time delegate to the Democratic National Convention.
Keli Vereb
Coordinator of USW District 10 Women of Steel since 2001 and facilitates Women of Steel trainings for the district. She has been a USW member of Local 2227 since starting work at USS Irvin Plant of the Mon Valley Works in 1995, where she works in the Business Planning Department. Keli was financial secretary for her former Local 1408 for 9 years. She also serves as a Rapid Response Congressional Coordinator for her local District.
Lisa Theobald
(Alternate)
A human resource and finance professional specializing in healthcare fields including hospice and Medicare. She was a Recruiting Manager with the U.S. Census Bureau in Pittsburgh for the 2020 census. Her grandfather was a steelworker at the Duquesne's Dorothy VI mill for US Steel, and she is deeply connected to the environmental issues surrounding Western Pennsylvania communities.
Mike Stout
Worked at the Homestead Steel Mill from 1977-1987 and served as an Assistant Grievanceman, elected Zone Grievanceman and Grievance Chairman for USW Local 1397 from 1979 until the mill closed in 1987. He has studied and is intimately familiar with the history of Homestead and the Steel Valley. Mike has been a labor, community, environmental and anti-war organizer for 50 years and a singer and songwriter for 52 years. He has written more than 150 songs, including many on the struggles and movements of working people.
Brittany Sheets
A multi-talented communications professional and proud Penn State University graduate. She got her start in the progressive movement through her work with The Union Edge, Labor's Talk Radio. Raised in a labor family, she understands the struggles that face today's working class, advocating for progressive ideas and social justice.
Dennis Robinson, Jr.
Contract Coordinator at IMG Energy Solutions. A native Pittsburgher, Dennis is a sought after director, stage manager and arts administrator. Dennis previously worked on the artistic staff of the former Opera Theater of Pittsburgh for eight years, served as Manager of Community Programs and Accessibility for Pittsburgh Ballet Theatre, Director of Education and Accessinility for City Theatre and Barack Obama Academy of International Studies. In 2017, Dennis had the pleasure of commemorating the 125th anniversary of the Battle of Homestead as stage manager for the acclaimed Tony Award-winning actor Mark Rylance.
Constance Portis
A Homestead resident and degreed in the field of human relations. She is a founder and former publisher of the Greater Pittsburgh Black Business Directory, Women's Yellow Pages and Renaissance News. She founded  the Black Extravaganza and Traiblazer Awards, Womenpower Seminar for African-American women and Holiday Expos and produced the play Christmas is Comin Uptown. For 9 years, she served as Assistant Director of Equal Opportunity for the State Auditor General And established two POISE Foundation Funds. She is most proud of her mentorship of women and men who worked with her over the years. Currently, she hosts the annual Sisters and Friends Getaways for more than 100 women from around the country.
Charlie McCollester
A founding member of the Battle of Homestead Foundation. He has a Doctor of Philosophy from Louvain, Belgium, and was a Steward (Local 57 Hotel Restaurant Union) and Machinist and Chief Steward (UE 610) at Union Switch & Signal. He retired as director from the Pennsylvania Center for the Study of Labor Relations at Indiana University-Pennsylvania where he was a professor of Industrial and Labor Relations. He is president emeritus of the Pennsylvania Labor History Society.
Bob Mason
A Licensed Clinical Social Worker whose political and social activism is focused on advocating for single payer health care reform, supporting Palestinian human rights and countering anti-Semitism, racism, Islamaphobia and working in solidarity with organizations addressing pollution and climate change. In addition to BHF, he is a member of the Thomas Merton Center, DSA, Jewish Voice for Peace and the Izaak Walton League and a board member of Health Care 4 All PA.  He is inspired by the mission of the BHF of grounding the current and future needs of working people in reclaiming the history of the Mon Valley Communities.
Jay Hornack
Is in private practice as an employment law attorney and was active throughout the 1980s in the Tri-State Conference on Steel, an advocacy organization committed to stopping plant closings (such as the one that occurred in Homestead) and mass layoffs in manufacturing. Tri-State was instrumental in the formation of the Steel Valley Authority, a statewide economic development instrumentality of the Commonwealth of Pennsylvania, and Jay has served as SVA's Solicitor since 1986. He also defended in court the legality of the City of Pittsburgh's 1983 plant closing notification ordinance. Jay has been an adjunct teaching business law and ethics to undergraduates at Carnegie Mellon's Tepper School of Business since the 1990s.  He has also volunteered previously to be on the Board of Directors of Disability Rights Pennsylvania (formerly Disabilities Rights Network), Avenu (formerly StartUptown), and the Thomas Merton Center.
Mark Fallon
A life-long resident of the Steel Valley. He graduated from University of Pittsburgh, is a U.S. Army veteran and worked at U.S. Steel's Clairton plant for 14 years. He retired in 2018 from the Steel Valley School District where he taught middle school history for 14 years. Mark currently serves on boards of the Homestead Cemetery Committee, The Dragons Den and the Munhall Parks and Recreation Board. He is a member of the Council for Munhall Borough.
Suzanne Donsky
Served for 31 years as an attorney with the National Labor Relations Board and came to Pittsburgh's Region 6 Board office in 1993. She began her NLRB career in NYC, having been in the third graduating class of CUNY Law School and its uniquely public interest/social justice law program. Suzanne has held various positions with the NLRBU, the union representing Board employees. She previously worked as a community organizer in the South, first for PIRG and subsequently for the National Abortion Rights Action League.
Patricia M. DeMarco
A Pittsburgh native with a 30-year career in energy and environmental policy in both private and public sectors, including Commissioner of the Regulatory Commission of Alaska and Demand Side Manager for the Connecticut Municipal Electric Energy Cooperative. She was the Executive Director of the Rachel Carson Homestead Association and Director of the Rachel Carson Institute at Chatham University. Her latest book, Pathways to Our Sustainable Future – A Global Perspective from Pittsburgh was funded by the W. Clyde and Ida Mae Thurman Fund of The Pittsburgh Foundation. She is a member of the Council for Forest Hills Borough.
Kallie Sheets
MS-Master of Information and Library Science
Grew up in Pittsburgh and has come to love the history of the Steel City. She has a B.A. in History from Penn State University with a senior thesis on women in the Pittsburgh steel industry. She also has a Masters in Library and Information Sciences from University of Pittsburgh. She has been involved with the Battle of Homestead Foundation since she was in college and currently serves as a member of the Archives Committee.
Jacqui Cavalier, EdD
Professor of History at Community College of Allegheny County
Has been a Professor of History at Community College of Allegheny County (CCAC) since 2000 where she teaches a variety of history courses. She serves as Allegheny Campus Vice President for American Federation of Teachers (AFT) Local 2067 where she also served as the Faculty Coordinator of the Labor & Management Studies Certificate program. Dr. Cavalier received her Doctorate of Education and her Masters of Arts in Social Science from California University of Pennsylvania. Among her publications is a relevant article: "The Impact of Immigration on the Iron and Steel Industry" in The Industrial Revolution in America (2005).