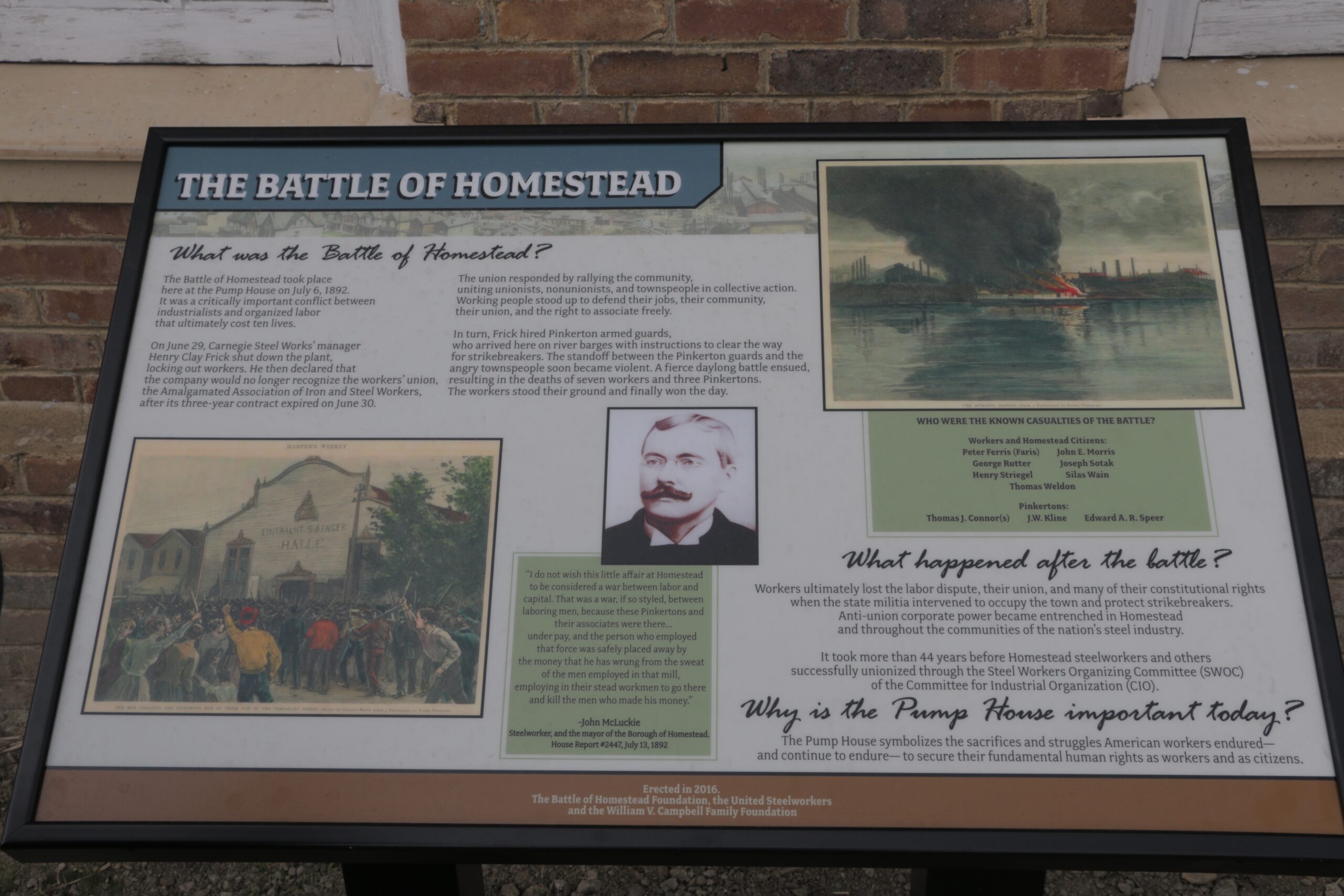 On April 21, 2016 we dedicated a new plaque outside the Pump House to give visitors a better understand of what took place on July 6, 1892. The program for the dedication included participation of students from Steel Valley High School.
Musical Opening:
"Homestead Town" by Mike Stout, accompanied by Steel Valley High School Choir (SVHS)
"Stand By Me" performed by Steel Valley High School Choir, Acapella
Choir Members: Anthony Brookins, Cassie Brugos, Abby Ferson, Kenny Joyce, Danielle Long,
Monte Marshall, Savannah Merrill, Adam Pasay, Alyssa Proof, Austin Riley, Samia Sanders,
Riley Tate and Ms. Sharon Kampe, Director
The Battle of Homestead – Director by David Conrad
Dramatic Readings by Steel Valley High School Students: Kenny Joyce, Riley Tate, Austin Riley, Ismael Satterwhite, and Taniyah Price.
At the bottom of the plaque is this inscription: "This Memorial is erected by The Battle of Homestead Foundation and The United Steelworkers International Union, in cooperation with the Rivers of Steel National Heritage Area.
Funds provided by a grant from the Campbell Family Educational and Community Foundation."
William Campbell was a Homestead native who became a revered business adviser to top executives at Silicon Valley tech firms Amazon, Apple Computer and Google, but who maintained deep ties to his hometown as a philanthropist who gave millions of dollars to schools, sports facilities and community projects in the Mon Valley area. BHF wrote to him, asking for assistance in funding this project, which he readily agreed. He died April 18, 2016, 3 days before the dedication.